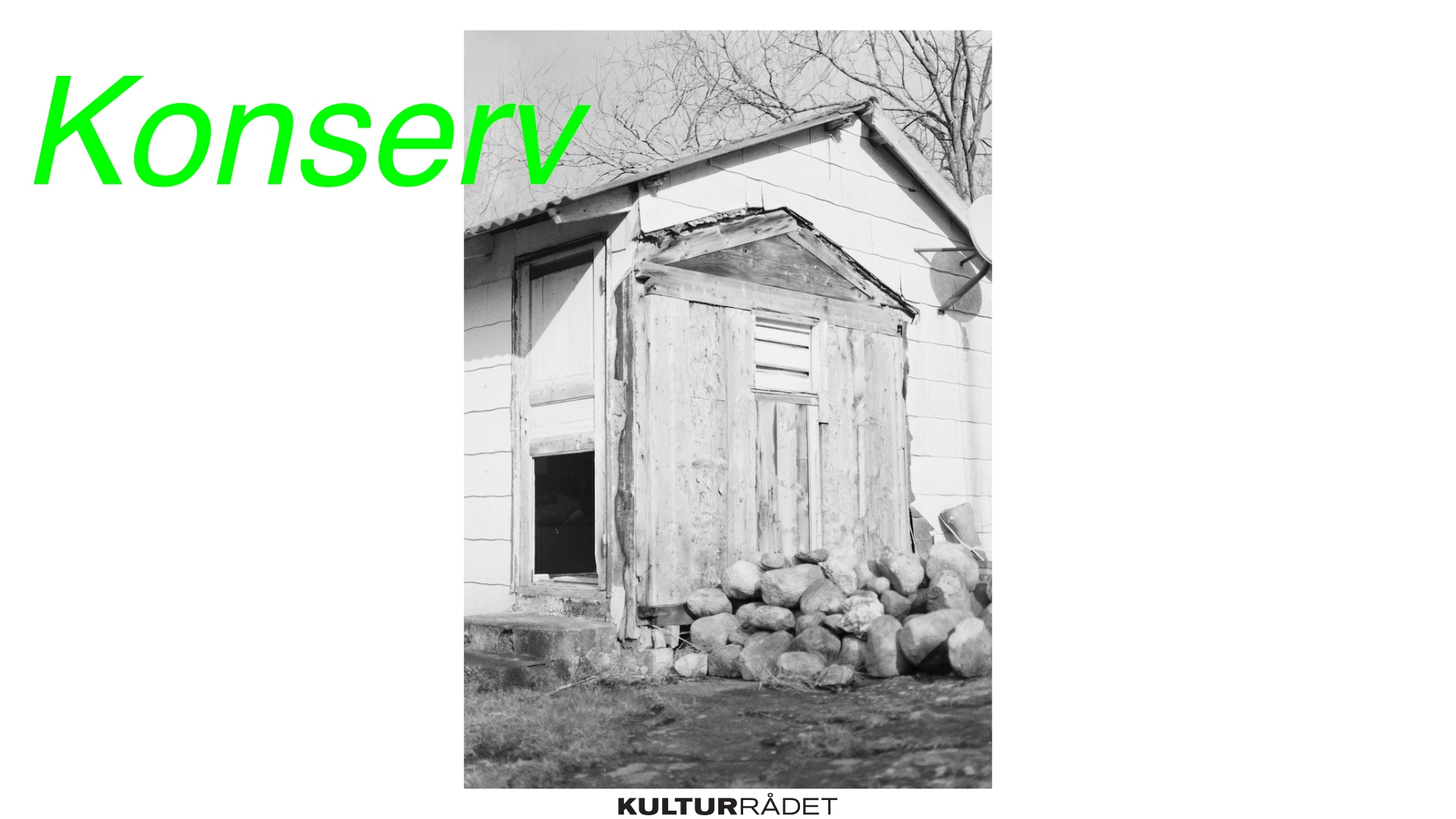 Date
Jun 18 - 23 2022
Expired!
Konserv
Through the work of Mercè Torres Ràfols, Matilda Kenttä and Sean Roy Parker, Konserv looks to ideas of conservation, heritage and how social histories become exposed through social energy. Using the historical site of Gathenhielmska Huset, a former domestic space, now a heritage site and culture centre, as a frame, these three artistic practices stretch and pull the possibilities of how publics consider their relationship with the conservation of historical lived spaces. 
Mercè Torres Ràfols (Catalunya) works with the meeting point between materials, photography and film. Torres Ràfols is interested in questions of place, tradition and inheritance; of how knowledge has trespassed and of how things can be understood anew. These questions are a site-specific investigation of how that place has changed over time.
Torres Ràfols' photo series Two Ships Once Met Somewhere in the North Sea (one saved the other together went back home said goodbye and never met again) (2019-20) deals with ways of communication through language, translation, fishing rituals and the political family. It thinks about how histories are constructed and passed on to one another combining into a fractured tableau. The series traces these intricacies within existing communities on the islands of Götbeorg's archipelago, letting the geography be an engaging factor in inhabiting a new place and the fellowship formed in these social spaces. 
Matilda Kenttä's (Sweden) praxis positions the weave as a central metaphor and method for seeing and linking through materiality and the written word. Kenttä's interest revolves around hand-weaving in the post-industrial drama. Weaving throughout history has been a net of metaphors for women's labours, but in today's economical landscape, Kenttä is interested to see if weaving can be used as a method to embrace the time-consuming and the slow; inertness.
I Put Here My Lazy Girl This Soft Cushion (2020) finds spaces between work and not-work, domestic labour in traditional and modern forms, pace and perfection. The A4 format of the works attempts uniformity, but the objects will never be able to interact with the machines they are formatted to. 
Alongside and extending this is a new work reflecting on the room as the site of a loveless marriage in the history of the house. Kenttä has been working in residencies in Amsterdam and Kiruna, using the loom as a strategy to form social space both in a physical and communicative sense. This new commission by Gathenhielmska Huset offers a bridge between that work and the themes of I Put Here My Lazy Girl This Soft Cushion. 
Sean Roy Parker (UK) is an artist, writer and fermentation enthusiast based at Derbyshire Artist Residency Project (DARP) in the Midlands, UK. Through an ongoing personal decommodification practice, he is exploring embodied art-making through living, writing, poetry and performance, foraging and cooking. His work expands and multiplies the life cycles of wild abundance and post-consumer waste to formulate skills-based praxis influenced by permaculture and eco-anarchism.
For Konserv, Parker presents Borrow, a duo of soft drinks crafted from plants collected in the Gathenhielmska garden and a video work documenting his daily lactofermentation practice at Narva Art Residency in Estonia, where he is currently artist-steward for Kreenholm Plants. 
The drinks are presented alongside a zine featuring contributions from the artists and curator Joe Rowley, available for public consumption whilst enjoying the exhibition, or just sitting in the historic surroundings of one of Göteborg's oldest buildings.