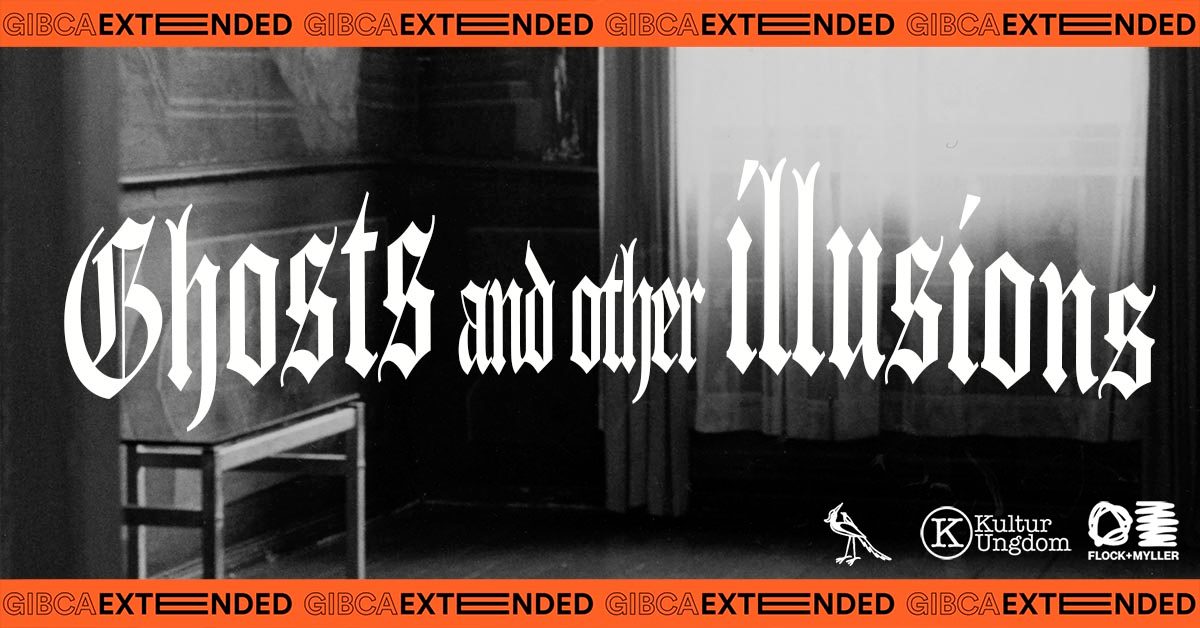 Date
Oct 20 - 27 2023
Expired!
Ghosts and Other Illusions – Utställningen
Välkomna på vernissage fredagen den 20 oktober, kl 16:00 – 20:00. Utställningen pågår 20/10 – 27/10.
Om utställningen
Ghosts and other illusions är en utställning av Nanna Hammer Tiittanen (f. 1996) som visar verk från hennes konstnärsresidens på Gathenhielmska Huset, ett av de äldsta husen i Göteborg. Genom berättelser om spöken på vinden, dörrar som inte leder någonstans, falska trädgårdar, trompe l'oeils och kaminer som inte kan tändas, undersöker konstnären några av de sätt som våra sinnen, fotografier och tiden kan lura oss.
Verken handlar om huset och visas i huset. Dom sträcker sig över flera rum och består av projektioner, fotografier och texter. Alla verk ackompanjeras av ljudkonst av den kanadensiska/danska konstnären Lunr Girl (Keira Louise Madsen).
Utställningen ingår i programmet för GIBCA Extended, Göteborgs konstbiennal. Ghosts and other illusions produceras som en del av residensprogram på Gathenhielmska huset, med stöd från Kulturrådet och Kultur Ungdom Göteborg. Utställningen produceras med stöd av Flock & Myller.
Om Nanna Hammer Tiittanen
Nanna Hammer Tiittanen (1996) är en fotografi- och textbaserad konstnär från Danmark. Hon experimenterar ofta med alternativa fotografiska metoder för att utforska teman som identitet, relationer, nostalgi och berättande. Hon tog kandidatexamen i konstnärligt fotografi på HDK-Valand 2022 och har ställt ut i Danmark och Sverige.
Vernissage
Fredag 20e okt. kl. 16-20
Live spelning av Lunr Girl
Öppettider
Mandag–fredag kl. 14–17
lördag–söndag kl. 12–15
ENG
About the exhibition
Ghosts and other illusions is an exhibition by Nanna Hammer Tiittanen (b. 1996) showing work from her artist residency at Gathenhielmska Huset, one of the oldest houses in Gothenburg. Sharing stories of ghosts in the attic, doors leading nowhere, fake gardens, trompe l'oeils and stoves that cannot be lit, she investigates some of the ways our senses can deceive us – be it through sight or the passage of time.
The exhibition is about the house and in the house. Stretching over several rooms the works differ from projections in conversation with precious old tapestries to texts and photographs telling personal stories experienced in the house. All works are accompanied by sound art by Canadian/Danish artist Lunr Girl (Keira Louise Madsen).
The exhibition is part of GIBCA Extended, the Gothenburg art biennale. With support from KKulturrådet and Kultur Ungdom. Ghosts and Other Illusions is an exhibition produced within the artistic residency programme at Gathenhielmska huset. The exhibition is produced with the support of Flock & Myller
About Nanna Hammer Tiittanen
Nanna Hammer Tiittanen (1996) is a photography and text-based artist from Denmark. She often experiments with alternative photographic methods to explore themes such as identity, relationships, nostalgia and storytelling. She has a bachelor in fine art photography from HDK-Valand and has exhibited in Denmark and Sweden.
Exhibition opening
Friday October 20th 4–8 pm
Live music by Lunr Girl
Opening hours
Monday–Friday 2–5 pm
Saturday–Sunday 12–3 pm